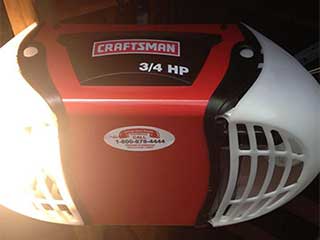 Every automatic garage door relies on an electric opener in order to be able to work remotely. Of course, while this type of unit is incredibly helpful, when something goes wrong with it, the inconvenience, not to mention the danger, can be a real hassle. That's when you need to reach out to our team.
The Main Unit
There are a lot of things that can go wrong with your opener. For example, the motor gear can wear out, which will make it seem like everything is fine, except that your door won't move an inch. Then there's the circuit board. This component can experience a few malfunctions, including fried wires and actual physical damage to its hardware pieces. No matter what the issue is, you can count on our team to fix it.
The Eyes Are Misaligned
The photoelectric sensors that your opener uses to prevent it from closing the door while something is blocking its way are incredibly important. Clearly, that's a given. Unfortunately, it may not always be obvious when you're dealing with misaligned sensors. If your door keeps reversing and you can't tell why, then that's probably the cause. Our technicians can perform the required sensor realignment and make sure that these crucial components are able to properly detect any obstacle.
The Right Type For You
Another one of the services we offer is new opener installation. Our experts can help you understand the different benefits belt drive units have compared to chain-drive models, and vice versa, as well as the added features that name brands like LiftMaster, Genie and Craftsman, can offer you. Smartphone compatibility and a backup battery system can be welcome additions to the security of your home and a real enhancement of your daily convenience.
Let Us Help
If opener replacement is what you need, or some annoying problem is keeping you from using your automatic overhead door, then give our team a call. Our specialists at Garage Door Repair Spring can help you in all sorts of ways. Contact us today.
Need more? We also provide:
Oil Tempered Torsion Springs
Overhead Door Installation
Part Replacement & Lubrication
Screw Drive Opener Replacement